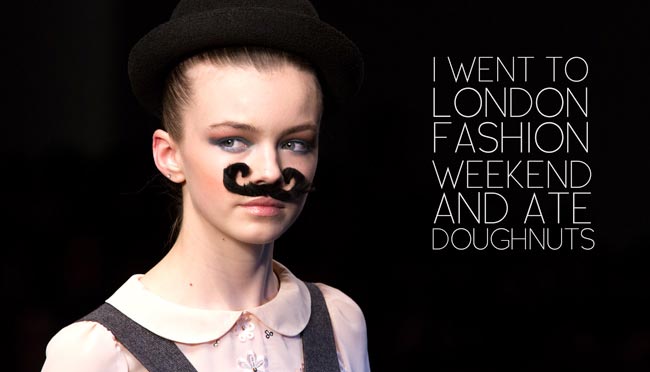 After getting the opportunity to shoot some catwalk shows at London Fashion Weekend – London Fashion Week's more public-orientated little sister – I hopped on the train down to London to dip my toe into the world of dressing really stylishly whilst ignoring things like poverty and war.
The show was organised by Canon and so there were about 25 other photographers there, some amateurs, some professionals. I got chatting to a few photographers, casually peppering my vocabulary with words like 'fresh' and 'looks' so I would fit in. Then the Canon spokesperson started talking about 'trends' and didn't mention 'looks' at all, so I made a mental note to exchange 'looks' for 'trends' throughout the rest of the day.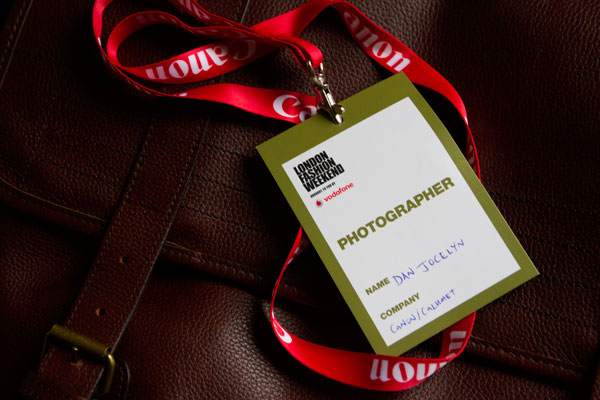 So we filed into the tent at Somerset House and set up on the riser at the end of the catwalk. While we waited for the show to start I watched the audience coming in and I noticed the inordinate number of hair flicks going on. It was like the fashionista's social signal to the rest of the pack 'I'm with you guys'. I was wearing ill-fitting jeans and my dad's jumper. That was my social signal to say 'I don't belong here'.
The compère then came on stage to introduce the shows. She said 'I got up this morning and looked hideous!' and I knew this was code that good-looking people use to mean 'as attractive as the general public'.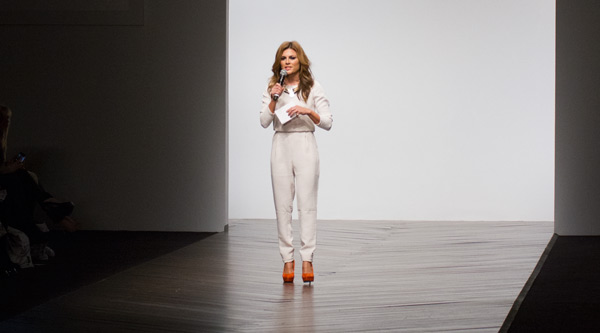 Then she reassured everyone that buying high-street brands is actually ok. This was a relief as I was top-to-tail in high-street brands.
Then the shows began!
The first show was a designer called Issa, who used the Brazilian beach and coast line as inspiration! I immediately thought of Cintia Dicker playing volleyball in a bikini. Issa was more classy.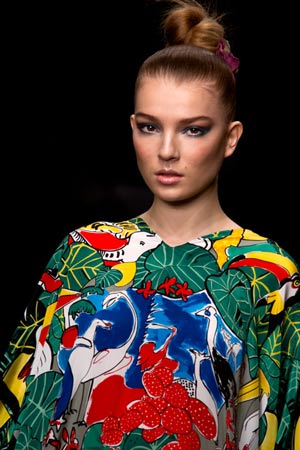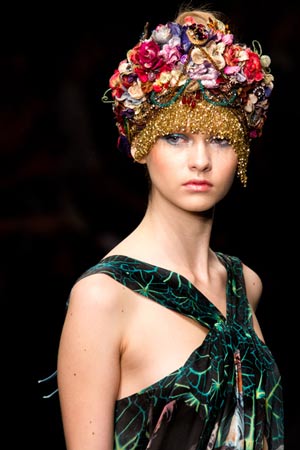 Although I'm not a fashionista I did appreciate the work and craft that had gone into the clothes. Like the head thing above.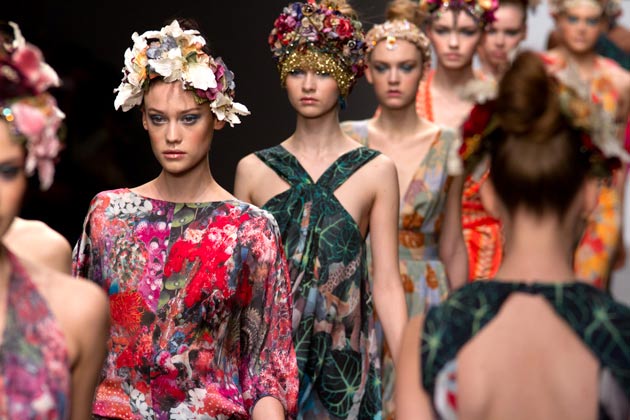 The show was apparently 20 minutes long but seemed to be over quickly. I was really enjoying it and hadn't thought about poverty once. I did notice the models looked thin to the point of illness, which made some of their heads seem like giant bowling balls. It must suck to be a model.
The second show was mix of a few designers, like Twelve8Twelve and Louise Gray, split between four 'trends':
Graphic Art (clean, structural lines); Urban Lifestyle (formal, classic items with casual separates); Eastern Promise (style cues from Asia); and Doll's House (a twist on femininity with high-shine metallics).
Yes, I got that off the Fashion Weekend website.
Urban Lifestyle a.k.a. Total Zoolander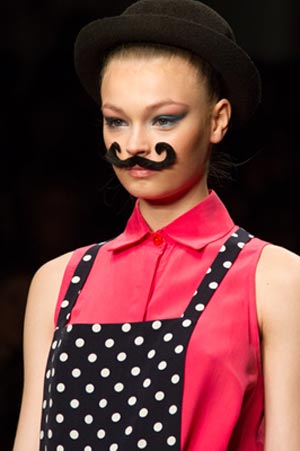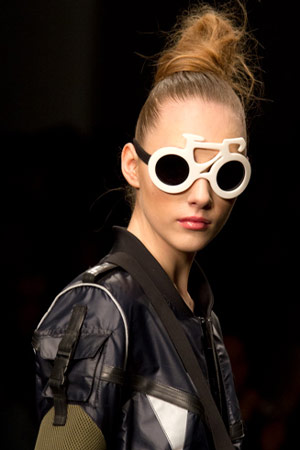 Eastern Promise (Asia = paper umbrellas)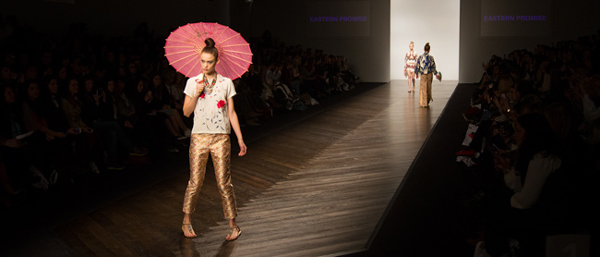 And finally Doll's House.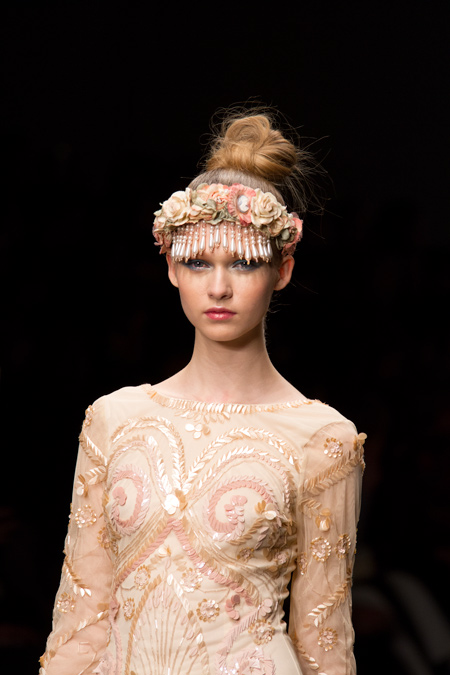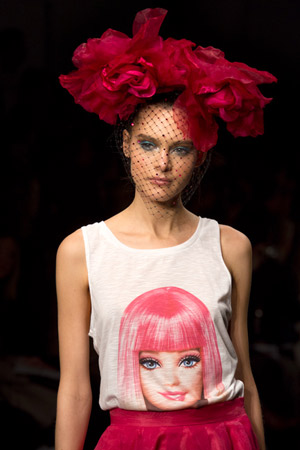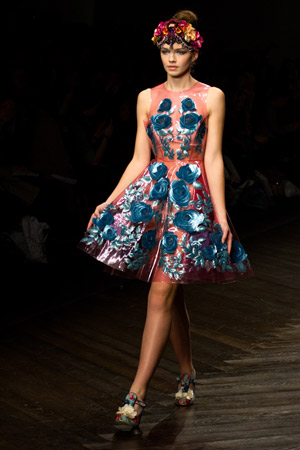 And so the last model left the catwalk and that was it. A really enjoyable morning and a great experience for us non-pro shooters to experience. Nice one Canon and Calumet!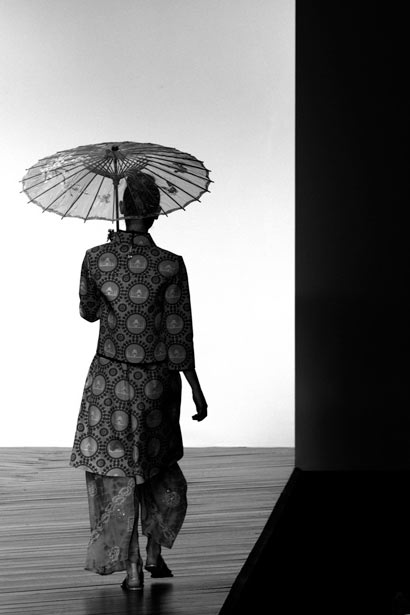 And so finished my small peep into the world of fashion. To ease my transition back to the real world I headed out of Somerset House and straight into a nearby Gregg's and scoffed down three doughnuts before the server had given me my change.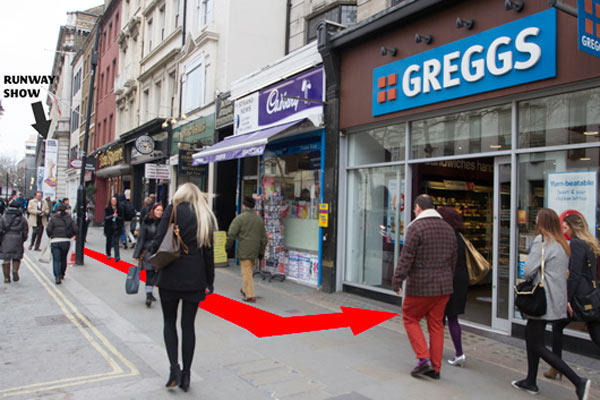 Ah, good ol' Greggs.
As I walked back to Charing Cross tube, I thought about what Kate Moss once said:  Nothing tastes as good as skinny feels.
Never tried a Gregg's Strawberry Milkshake doughnut obviously.